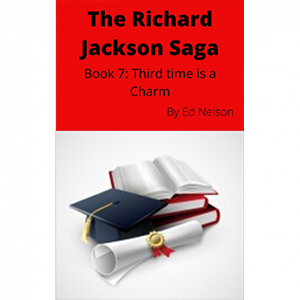 The Richard Jackson Saga
Book 7: Third Time is a Charm
Coming of age stories don't have to be all teenage angst, they can be fun-filled adventures. With humor, we follow a young man's coming of age in the late 1950s. Starting in the summer before his freshman year it follows him through high school and beyond. He finds wealth as an inventor and fame in Hollywood as he searches for a girlfriend. Wealth and fame prove far easier than girls.
The seventh book, 'Third Time is a Charm,' has Rick making a movie he didn't want to do, singing a song against his will and trying to complete the tenth grade.
Danger and adventure keep coming his way, from a pedophile to the KGB the world seems out to get him. Life is strange when the Hell's Angeles consider you one of them. The State of California can't comprehend that self-study can be more efficient than a classroom. Flying multi-engine aircraft proves to be easy compared to getting and keeping a girlfriend.
This tongue in cheek saga is all true, give or take a lie or two.