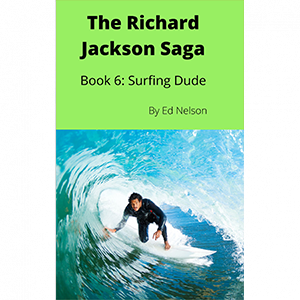 The Richard Jackson Saga
Book 6: Surfing Dude
Coming of age stories don't have to be all teenage angst, they can be fun-filled adventures. With humor, we follow a young man's coming of age in the late 1950s. Starting in the summer before his freshman year it follows him through high school and beyond. He finds wealth as an inventor and fame in Hollywood as he searches for a girlfriend. Wealth and fame prove far easier than girls.
The sixth book, 'Surfing Dude,' has Rick working and living in California while preparing for a surfing movie to be filmed in Hawaii. Continuing his Heroic ways he finds that like the rest of the world, films do not always go as planned.
From Chipmunks to Tigers the animal kingdom has its dangers. Throw in a group of crooked town officials, follow up with a flight crew down with food poisoning and our young man has his hands full. While money keeps pouring in he doesn't seem to have much luck with pretty girls, at least the luck a fifteen-year-old boy wants.
This tongue in cheek saga is all true, give or take a lie or two.