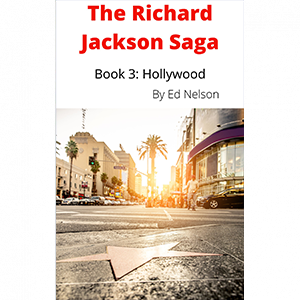 The Richard Jackson Saga
Book 3: Hollywood
Coming of age stories don't have to be all teenage angst, they can be fun-filled adventures. With humor, we follow a young man's coming of age in the late 1950s. Starting in the summer before his freshman year it follows him through high school and beyond. He finds wealth as an inventor and fame in Hollywood as he searches for a girlfriend. Wealth and fame prove far easier than girls.
The third book, 'Hollywood' debuts Rick in the movies. From being a supporting actor to a leading role the young man finds that being a star is real work.
His invention of the adjustable faucet and electric hairdryer bring him money. The movies bring him fame. Finding him a girl that is not a gold digger or hanger-on proves difficult. That takes effort like being nice to them and actually listening while getting to know the young lady.
This tongue in cheek saga is all true, give or take a lie or two.