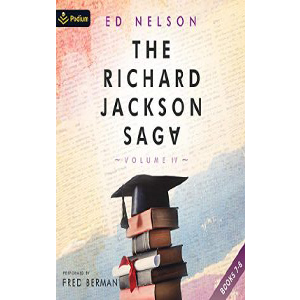 The Richard Jackson Saga
Audio Book: Volume IV
Contains books seven and eight of the Richard Jackson Saga, a coming-of-age adventure series.
Third Time Is a Charm, book 7
Rick is making a movie he didn't want to do, singing a song against his will and trying to complete the tenth grade. Danger and adventure keeps coming his way, from a pedophile to the KGB. The world seems out to get him. Life is strange when the Hell's Angels consider you one of them. The State of California can't comprehend that self-study can be more efficient than a classroom. Flying multi-engine aircraft proves to be easy compared to getting and keeping a girlfriend.
Oxford University, book 8
Rick is transitioning from being a tenth grade high school student to entering Oxford University as an underclassman. Fame, adventure, and even some danger keep coming his way as he moves to Oxford, England. He is back and forth across the Atlantic as he takes his exams and prepares for the US Open. Somehow, his courtesy job as a Queen's Messenger lands him in the Royal Air Force as a flight officer. How this ends up involving a French actress and the Mona Lisa remains to be seen.
Includes "Mary, Mary", a bonus story from The Richard Jackson Saga.