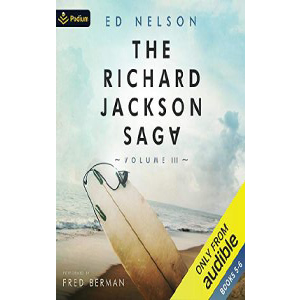 The Richard Jackson Saga
Audio Book: Volume III
Contains books five and six of the Richard Jackson Saga, a coming-of-age adventure series.
Star to Deckhand, book 5
Rick is working and living in California, but learns that starring in a new movie has its challenges. As he gains skills in his new role as an actor he discovers that he can sing…to a point. A dark and dangerous side of the family comes forth when Soviet agents kidnap his sister. The move into Jackson House has its surprises. And while the family flies to England for their holiday, Rick works his way there as a deckhand on a freighter. Cuba, Argentina, Africa, and England all have adventure in store for our maturing young protagonist.
Surfing Dude, book 6
While Rick continues working and living in California, he begins preparing for a surfing movie that will be filmed in Hawaii. He finds out that like the rest of the world, films do not always go as planned.
From chipmunks to tigers, the entire animal kingdom has its dangers. Throw a group of crooked town officials and a flight crew with food poisoning into the mix and this young man has his hands full. While money keeps pouring in, he doesn't seem to have much luck with pretty girls…at least not the luck a 15-year-old boy wants.