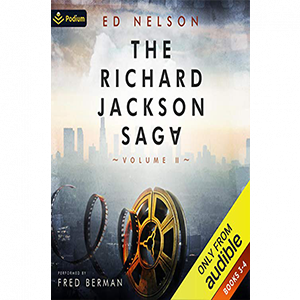 The Richard Jackson Saga
Audio Book: Volume II
Hollywood, book three
Rick debuts in the movies. From being a supporting actor to winning a leading role, the young man finds out that being a star is real work. His invention of the adjustable faucet and electric hairdryer brings him money, and being in the movies brings him fame, but finding a girl who isn't a gold digger or hanger-on proves to be more difficult. Because finding a lady takes effort…like being nice to them and actually listening while getting to know them.
In the Movies, book four
Rick is now firmly in the movies. As the young man grows in his capabilities both on- and off-screen, he finds out that fame may not be all it is cracked up to be.
Finding girls is no longer hard; between the boss' daughter, an old flame, and a bad girl from Hollywood, he has his hands full. Joined by his family in California, they buy a mansion with hidden secrets. The adventure continues, ranging from a stampede to a group of bank robbers running into the Square of Death.
For the young, this is a coming-of-age adventure; for those who lived it, it's a trip down memory lane.
This tongue-in-cheek saga is all true (give or take a lie or two) and contains Easter eggs galore.